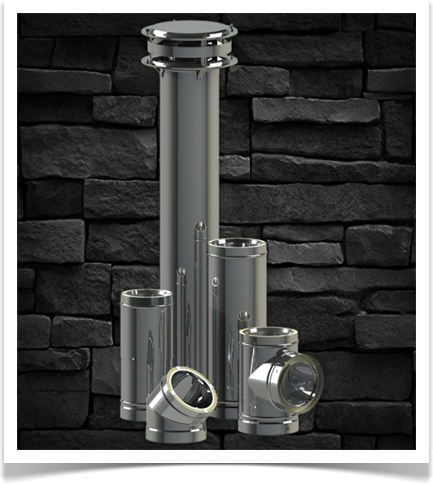 Excel
EXCEL Chimney is Certified to Withstand Chimney Fires
EXCEL is tested and listed to the ULC S-629 chimney standard. The ULC standard is generally considered the toughest residential chimney standard in the world. The USA standard requires the chimney to withstand three 10-minute 2100°F chimney fires. The Canadian standard requires the chimney to withstand three 30-minute chimney fires, three times longer than the USA.
EXCEL is the only 1 inch wall insulated chimney to pass the ULC standard.
EXCEL's unique thermoplus insulation has an extremely high insulating value that helps to keep flue gasses hot. Creosote won't condense in a hot flue.
EXCEL is the lightest weight insulated chimney of its kind on the market. This low thermal mass enables it to heat up quickly, reducing creosote formation. And EXCEL's light weight helps make it the easiest chimney to install.
EXCEL incorporates continuous blanket insulation into a design which eliminates couplings between lenghts. This means there are no hot spots on the outside, or cool spots on the inside.
The EXCEL insulated stainless steel chimney is suitable for use on appliances that burn wood, oil, coal, gas and charcoal and comes in 5", 6", 7" & 8" diameters.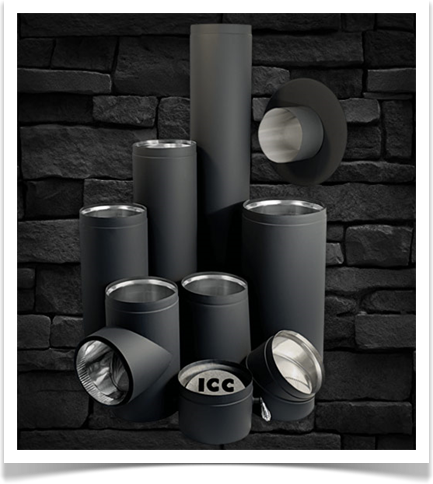 Ultra Black
Hi-tech Performance – Old Fashioned Appearance
Double Wall Construction with a 3/8" air space between inner and outer pipes provides superior insulating value to single wall pipe. Better insulating value keeps flue gas temperatures higher. This helps your woodstove perform with an enhanced draft, which provides:
Less chance for moisture or soot build up within the vent
Reduced smoking of the stove at start up
ULTRABlack not only keeps the flue temperatures higher, it keeps the outer pipe temperatures cooler. This allows ULTRABlack to be installed with only 6" clearance to combustible materials. Single wall stove pipe requires an 18" clearance, which typically means your wood stove sits further away from the wall and takes up valuable space within the room.
Most attractive double wall product on the market; no unsightly slots or vents
The outer casing is constructed of Satin coat steel. Satin coat is attractive and durable when painted. ULTRABlack is painted with Forrest "Stove Bright" premium quality, high temperature paint to provide a rich appearance that complements your woodstove.
The ULTRABlack double wall stove pipe is designed to be used as a connector between a freestanding oil, wood or coal burning stove and a masonry or metal chimney and is available in 6", 7" & 8" diameters.